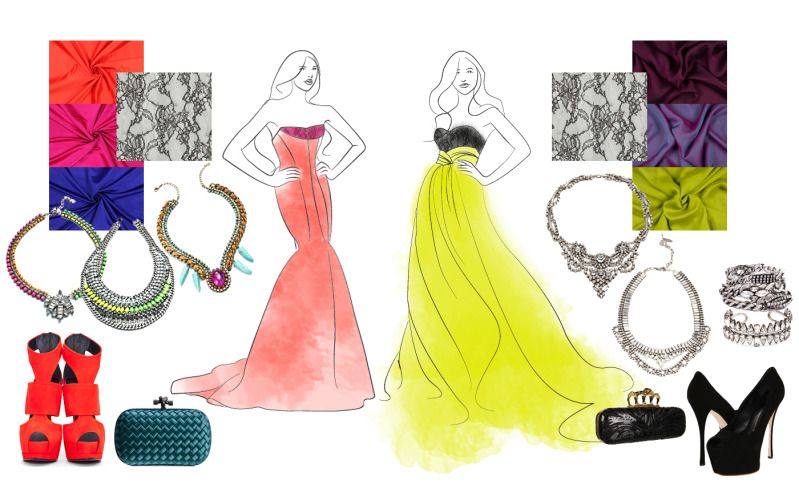 (illustration by Marisa Scott for CitizenLMS © 2012)

Necklaces & Braceletts by Dannijo
Shoes by Giuseppe Zanotti
Clutch (left) by Bottega Veneta
Clutch (right) by Alexander McQueen


Hey loves, so my dear friend Stacie of The SASsy Report is having a black tie wedding next year ( I know, I know its super early to be doing a post about it) and I wanted to do a little post about gowns/shilouette's i'm currently swooning over. I'm thinking of making my own gown inspired by gowns that I loved by Zac Posen and Jason Wu. My first option is a mermaid silhouette; I felt that since I'm quite petite the body hugging form will create/emphasize my curves and give me a little more presence. I also love the notion of doing a modified sweetheart neckline with a hot pink lace inset and the rest of the dress in a contrasting bright orange satin. I paired colorful Dannjo accessories with this dress because they're glam and add so much fun and such a festive feel to the look.

My second option is a black corset bodice with lace overlay and a full sheer skirt in a neon chartreuse. I love the flow of the skirt and really would like to wear something comfortable and breezy since the wedding will be in the summer time. I paired more of Dannijo's vintage inspired pieces with a rock edge with the gown to play up the juxtaposition of the hard feel of the jewels off of the softness of the bottom of the dress. Through the course of the rest of the year I'll be doing more posts about my process of creating both of these gowns and also doing DIY jewelry posts inspired by the baubles from Dannijo...I may even try to squeeze in a DIY clutch post inspired by Alexander McQueen as well so stay tuned!!!

Happy Tuesday!!!